When outsourcing aluminum fences, settle for products manufactured in automated state-of-the-art facilities where the product defects and inconsistencies are eliminated. Even the minor components used must be of top quality metal. Fences are stringently checked for quality as well as dimensional and wall size tolerances.
Aluminum fences have some clear advantages over other types of fences –
• Aluminum does not rust as it is a non-ferric metal.
• Low maintenance as aluminum need not be painted every few years.
• Aluminum fences look great on any kind of landscape.
• These cost less than traditional wrought iron.
However, for getting aluminum fences that really add value to your property, you need to make sure you get these from manufacturers of repute, who make fences in automated state-of-the-art facility, that removes product defects and inconsistencies. Such manufacturers have complete fencing system offering multiple standard design styles for varying applications.
High-strength fences go through a multi-stage process where these are cleaned, pretreated, powder coated and rigorously tested to affirm that they meet the top standards of quality. Even the screws and fasteners in these fences are of high quality steel. Other ingredients like nylon patches which prevent screws from backing out and the paint are also high quality. Paint they apply is specifically formulated for harsh exterior applications.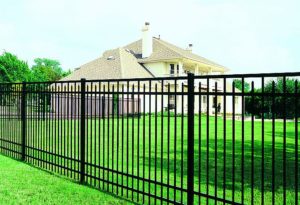 Moreover, reliable manufacturers will be willing to back the fences with a lifetime warranty which will usually include defects in workmanship and peeling, cracking or blistering of powder coating. Manufacturers will pledge to repair, replace or refund the purchase price if the product fails to conform to warranty.
Aluminum fences are available in different grades and you must know which one suits the application.
Residential aluminum fences are constructed using a 5/8″ picket and 1″ Horizontal U Channel. These fences are suitable for swimming pools, perimeter fencing, and landscape fencing applications.
Light commercial fence is constructed using a 3/4″ picket and a 1″x 1-1/2″ Horizontal rail. It suits the applications where the fence is a vital component and necessary element in the design.
Series 1 industrial fences are made using a high strength 1″ picket and 1-5/8″ Horizontal U Channel. These are suitable for playgrounds, municipal buildings, office parks, townhouse complexes, public swimming pools and parks.
Series 2 industrial fences are constructed using a high strength 1″ picket and 1-3/4″ Horizontal U channel. These suit the applications for Series 1 fences but provide added structural security.
Top level aluminum fence manufacturers use components made of marine-grade alloys for better strength, durability and corrosion resistance. They also ensure that their own supplies of materials are stringently checked for quality as well as dimensional and wall size tolerances. Quality control is put in place for achieving performance parameters for impact resistance, abrasion resistance, chemical resistance, color uniformity and specular gloss. Deploying advanced procedures, effects like color retention, chalk resistance, erosion resistance and gloss retention are attained as well.
Fences made by seasoned companies are light weight, easy to install and repair. For instance, if a picket is damaged, you need to change only the particular picket. Serving as a one stop solution, they make sure that the clients get all kinds of aluminum fences they need. They also provide for custom fabrication, offering multiple standard design styles for varying applications. Fences are available in several standard and custom colors.
Contact us on (954) 369-5506 for a free survey and quote.
You can also email us: info@browardcountyfence.com or view our website at https://browardcountyfence.com.