PVC Fencing: A Modern Day Fencing Option
Fencing has consistently maintained its place in architecture and for significant reasons. A fence adds beauty to a home or whatever other structure it encloses but mostly it's erected for practical purposes. More people continue to invest in the correct kind of privacy fence for such reasons.
For the uninitiated, polyvinyl chloride (PVC) fencing is basically a thermoplastic polymer which ranks as the third most popular plastic type. And much as it's classified as plastic, PVC isn't made out of 100% fossil fuels like every other plastic. Also, the manufacturing process they undergo is categorically unique.
Rather, it utilizes water plus energy and only half the fossil fuels utilized in the manufacture of the usual plastic. It's for this reason that it's friendlier to the environment. Unlike a few other fencing options, no toxic chemicals are applied to make it last longer.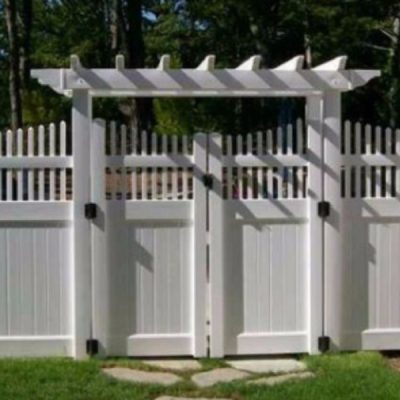 Obviously, you will want significant reasons why you should opt for a PVC fence as opposed to other fencing options. Well, the reasons are pretty compelling.
Easy maintenance
Maintaining and cleaning a PVC fence is relatively easy. You will only require soap and water. And since it can readily handle tough elements and impacts, you will be saved from having to paint, sand, stain or water seal it. Eventually, you will end up saving a lot when it comes to resources.
Even though the installation is relatively expensive, the long term benefits far outweigh that. In the long run, you will have saved a lot in terms of time, energy, materials and money.
Strength
Compared to other fencing options, PVC fences are more than four times stronger yet flexible enough not to crack from bending. This implies it can endure flying objects that came as a result of weather conditions or other extreme situations. Being resistant to water and the sun means the fence can also endure any kind of weather
Longevity
Due to the fact that a PVC fence is moisture resistant, it won't be able to suffer scratches, decay, rust, corrosion or stains. In fact, the UV protection helps it to retain its color and nature in the face of blazing sun rays. On average, a PVC fence can last up to 50 years.
Variety of Options and Styles
We all have our own specific taste and preferences and with a PVC fence, you have plenty to choose from. Fencing panels come in multiple colors including white, green, redwood, brown, gray, and black.
A couple of decorative options such as gates, post caps, and hardware can easily be blended with the different styling options. Options include privacy fencing, deck railing, ranch rail fencing just to name but a few.
You can as well choose your preferred height as the vinyl fences come in different heights.
Also worth mentioning is that a PVC fence is resistant to flame meaning it will not combust easily. So if you live in areas prone to droughts, this could be a great option.
To sum up, whether you are a homeowner or a business, there are plenty of ways that a PVC fencing could be of benefit to you. At (name of business) we have a rich experience and the necessary skills needed for correct installation of PVC fencing in Florida.
Give us a call today and we shall be happy to discuss how to make your home or business better through fencing.