Homes or establishments built near or next to a water body such as a lake have the potential of having docks for varied reasons such as fishing, entertainment, swimming, or a combination of the above. Planning to build one? If yes, it would be great if you sought the help of a professional.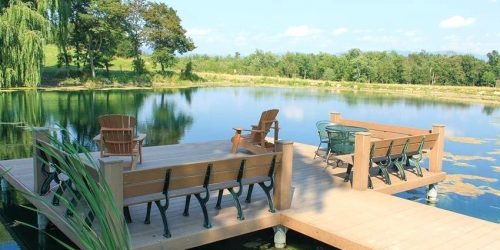 Usually, before designing a dock, we take time to listen to the customer in order to better gain an understanding as to what the intended use of the dock will be.
This determines the design we would propose. Other accessories that a client may need with the dock are items such as ladder(s) if there will be a fishing station. If tables will be kept on the deck or the client has a boat, it affects the size of the deck. There is always an option to do a railing for safety purposes depending on the client's wishes.
Thereafter, we propose a design that will best suit your needs and recommend material options that are line with your budget.
We work with an array of materials that will give your dock an amazing look without compromising on any functionality or safety.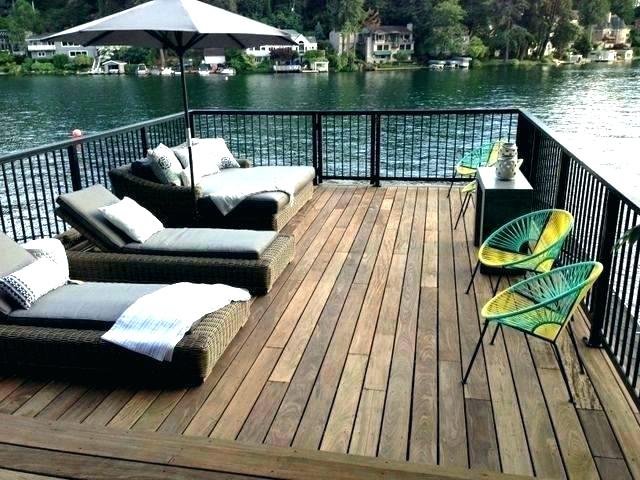 Composite is an excellent option. We recommend sticking to lighter colours of composite decking such as cedar and grey as they tend to stay cooler, therefore, less likely burn bare feet.
A composite dock is also very low maintenance and durable as it has the ability to resist the weather elements and tends not to split.
In addition to that, it delivers high on aesthetics as it comes in a variety of colours and can be installed in a way that the screw or hardware don't show.
The cons of the composite material are that it can stain, requires more support joints, and is generally more expensive than wood products.
We have used cedar on many decks with stellar results due to a combination of its many properties. Aesthetically, it delivers because of its consistent density and even grains as well as a soft texture.
These same features make cedar a good selection as they enable this wood to lay flat and not warp, cup, or twist over time on your dock.
Cedar naturally resists rot and insect infestation because of its natural fragrance and dark coloured heart-wood.
This material is usually readily available although the price may vary from one vendor to another. That said, it's still generally cheaper than composite or redwood.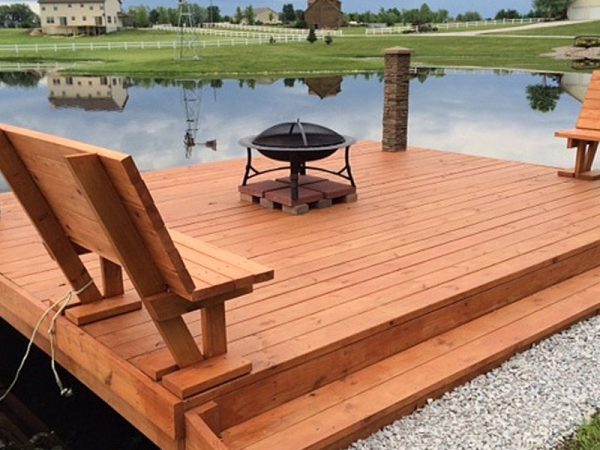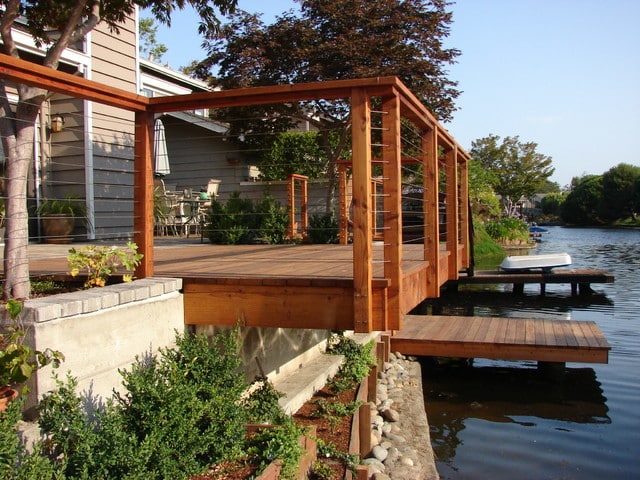 Redwood is a favourite for both technicians and clients. Our customers love the aesthetics of redwood because of the character it gives your dock. When left unfinished, it gradually turns black and eventually works its way to a silver-grey colour over an extended period of time.
Over and above the looks, we technicians offer this as an option because of its low shrinkage rate that deters splitting and is very stable wood. It is also very straight and not likely to cup or warp in comparison to treated lumber.
On top of that, it's not resistant and repels boring insects plus it's durable enough to withstand the weather elements. When constructing with redwood, we ensure to use products such as Thompson weather seal for the finish to repel water. Redwood is slightly expensive than cedar wood but cheaper than composite.
This option works well for outdoors thus making it ideal for deck construction. It has a long life span and is probably the most economical option. Wood that has been pressure treated and painted can last upward of 40 years.
Being inexpensive, readily available, termite resistant and easy to maintain makes this material a viable option.
When it comes to building or maintaining docks, our team has much experience as we have been constructing and maintaining docks for many years. Our warranty on docks that we build is 5 years. Give us a call for all your dock related maintenance and building queries or for a quote.